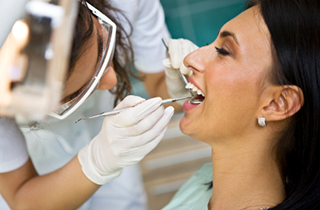 Your child's first appointment with a pediatric dentist should be short and informal as it predominantly involves introduction of the dentist and the child to each other. A small checkup may be done as well, but only depending on your child's age and comfort level.
Read Lizzie L.'s review of Amor Kids Dentistry on Yelp
Your little one's gums, bite and jaws will be inspected for decay, signs of gum disease and bad bites. Depending on the risk of cavities, they will have their teeth cleaned and be given a fluoride treatment.
Your dentist may ask to know about how often your little one brushes and flosses their teeth. You will be advised on better care methods, if necessary, and be given a chance to ask questions concerning your child's oral health.
Ensure you have all your questions in a list to avoid forgetting important things.
How to prepare your child for their first appointment with a pediatric dentist
Speak positively about the dentist to redirect your child's fear to the real threat, which is not seeing a dentist.
Stay calm – If you have a phobia for hospitals, avoid showing it to your child as they may be easily enthused and terrified as well.
Keep them busy in the waiting room – Consider bringing along toys and other materials that will keep your child distracted at the waiting room.
Prepare a treat – You can take your child to a playground or movie on the same day of the appointment to help them start associating dental appointments with nice things.
Pediatric Dentistry in South Park
Schedule an appointment for your child to be checked and treated by an experienced pediatric dentist at Amor Kids Dentistry. We offer virtually all pediatric dentistry services your child could require at our dental office in South Park. Call us at 323.759.1523 today to learn more about our services.